We are your number one resource any time you need drain field repair in Pine Hills.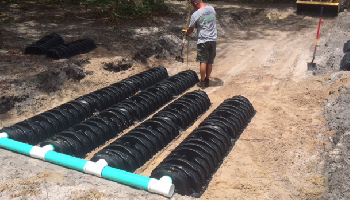 There are several indicators that you should call us at Clark Septic for drain field repair right away:
Your yard smells like sewage.
Water constantly backs up into your household drains.
Water drains slowly from your home's toilets, sinks, and showers.
Puddles are accumulating in your yard, especially near your drain field.
Drain field repair is a serious issue that should be handled by our professionals at Clark Septic right away. Not only does this problem affect your home's septic system, plumbing, and living areas, but it can also lead to contaminated ground water.
Calling on our team as soon as you notice signs of drain field problems is the best step you can take towards resolving this concern. Our technicians will assess your drain field, determine the severity of the problem, and provide recommendations for the drain field repair that will work best. Once we have determined the best course of action for your home and property, we'll take the necessary steps to repair and replace any parts of your drain field that need attention. When our work is through, you'll be left with a fully functional drain field that supports a healthy septic system for your home.
At Clark Septic, we are your number one resource any time you need septic services in Pine Hills, Florida. If you have questions about the condition of your septic system, or you have noticed some of these warning signs that your drain field is malfunctioning, please contact us today to schedule an appointment.
---
At Clark Septic, we offer high-quality drain field repair services in Pine Hills, Orlando, Deltona, Altamonte Springs, Kissimmee, Ocoee, Oviedo, Winter Park, and Winter Springs, Florida.