Limited-Time Offer: Septic Pumping Only $235*
Don't miss this opportunity to save $$$ on septic pumping!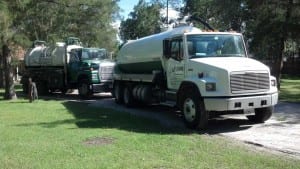 Do you have problems with your drains, such as clogs or backups?
While these may seem harmless, they can be symptoms of a problem with your septic tank. One of the most important steps in keeping your septic system in top shape is regular septic tank pumping.
Don't miss out on this great deal:
Septic tank pumping for only $235*
Call us today at (407) 383-4331 to schedule an appointment. You can also fill out our form to send us an inquiry!
Instead of waiting for a problem to happen, schedule routine septic tank pumping with our technicians. We have been providing excellent septic services to Central Florida since 2002. When we come out to your property, we will use a pump truck to eliminate the waste from inside the tank, providing a smooth and easy flow. This eliminates the risk of sewage backup and other serious problems.
*Per 1000 gal. Some conditions apply.