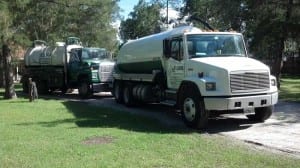 If you want to keep your system running smoothly, septic treatments are a must. Moreover, regular testing is necessary to keep problems and service costs at a minimum.
Your septic system is responsible for handling all the wastewater that leaves your home. This water contains many contaminants that not only accumulate in the actual tank, but also on the insides of the pipes that lead to and from it. Because the tank and lines are underground, keeping them unobstructed is a difficult task without the right tools. In this regard, the best tools for the job are our professional technicians!
What keeps a septic system going are microorganisms that literally feast on the deposits and sludge that accumulate over time. However, they cannot do the job indefinitely, so a treatment like septic pumping is needed periodically to keep the tank functioning efficiently and the lines clear.
It's a good idea to have septic pumping done every 3 to 5 years, depending on the size of the tank, where you live, and the number of people residing in your home. While pumping out the tank, one of our professional contractors can also inspect the condition of your system to identify any other potential problems. Rusting, cracking and corrosion are common after a number of years. Early detection can prevent premature failure and save you thousands of dollars.
At Clark Septic (formerly Clark Environmental Services), we are still the great family-owned business in Orlando, Florida that you've relied on for years! From drain field repairs and installation to septic maintenance & pumping, we're here for you. For fast, professional service, please contact us.