We can perform an in-depth drain field inspection in Orlando, FL and resolve small issues before they become large, expensive repairs!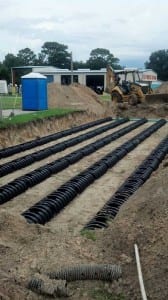 Drain Field Inspection in Orlando – In order to keep your septic system running smoothly, each part needs to function properly. The best way to ensure that your septic system is functioning at optimum levels is to perform regular maintenance checks. The next time you check your septic system, be sure to do a drain field inspection, as well. At Clark Septic, we can assist you with the drain field inspection process and can help you determine if any problems exist with this essential component of your septic system.
Simple things, such as driving across a drain field, planting trees in the area, or building a small outbuilding can cause serious damage to your drain field, and therefore your septic system. When you have an inspection done by us, we'll make sure that we thoroughly analyze each component of your drain field, including its pipes, the soil that covers the area, and its other features. This way, you can feel confident knowing that your risk of running into an emergency repair situation is minimal.
You can also have confidence in the drain field inspection services we provide because of our extensive experience. We have been serving the Orlando, Florida area since 2002 and know exactly what needs to be done to keep your drain field in good working order.
We Can Handle All Your Septic Needs
Helpful Tips for Proper Drain Field Care
Get a Preview of What You Will See When You Work with Us for Your Drain Field
Amazing from start to finish.
"The best experience I could have asked for with my drain field replacement! Clark Septic was amazing from start to finish. Frank provided me all the information I could possibly need through the process, I felt like I was being treated like family. Thank you guys so much for getting in out in one day. I would highly recommend to anyone."
★★★★★ Daniel P.
Here at Clark Septic, we can perform an in-depth drain field inspection and resolve small issues before they become large, expensive repairs. Contact us today for a quote and to find out more about what our signature drain field inspection process entails.
---
At Clark Septic, we offer high-quality drain field inspection services in Orlando, Altamonte Springs, Kissimmee, Deltona, Ocoee, Pine Hills, Oviedo, Winter Park, and Winter Springs, Florida.