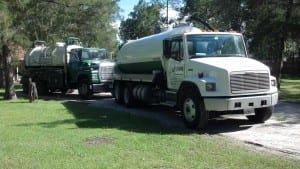 About one in four American homes have septic tanks. They are a hygienic and cost-effective way of getting rid of wastewater. When properly cared for, a septic system will provide many years of hassle-free service.
Having your system inspected regularly will help determine when septic tank pumping is needed. Most tanks need to be inspected every three years. Those with mechanical components will, however, need more frequent inspection. Your system's documentation will tell you how often it should be inspected.
So, what is the recommended frequency for septic tank pumping? Well, there's no set answer for every system. However, there are ways to determine when yours needs to be pumped. For example, an average 4-bedroom family home may have a 1,200 to 1,500 gallon septic tank. In this case, you can typically expect to have the tank pumped every 2 to 5 years.
Other septic tank pumping determinants are the sludge and scum levels. During an inspection, these will be checked. Both layers are very dependent on how often the system is used and how it was installed. Moreover, the number of people living in your home is another determining factor. Obviously, the more people using it, the more wastewater will be generated.
At Clark Septic Services, Inc. (formerly Clark Environmental Services), we have a new name, but we're still the great family-owned business in Orlando, FL that you've depended on for years! From installation and septic tank pumping to repairs and drain field maintenance, we're here for you. For fast, professional service, contact us today.