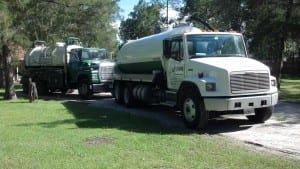 Grease trap pumping can be a messy task that, if not done properly, can result in big headaches for restaurant owners. With this is mind, we at Clark Septic have expertly trained technicians to ensure your establishment complies with regulations so you avoid downtime, messes and, of course potentially costly fines.
All debris that we remove is disposed of in an environmentally friendly and legal manner, with complete records being maintained. In short, let us take care of your grease trap pumping while you take care of your restaurant. That's one thing less for you to worry about!
With all the manpower, equipment and know-how to solve problems before they affect the smooth-running of your business, why would you trust your kitchen to anyone else but us? We'll even send a trained expert to help formulate a maintenance program that's tailored for you, so you won't be paying for any services you don't need.
Since 2002, we've been in the business of repairing, installing and maintaining septic systems in Central Florida. Although we recently changed the name of our company (previously Clark Environmental Services), our passion for customer satisfaction and getting the job done right hasn't changed.
In addition to grease trap pumping, we offer a full range of septic services that also includes diagnostic testing. So, if you've got a mess, get hold of us – we're the best!