There are many reasons why you should call us for a regular drain field inspection at your Deltona home.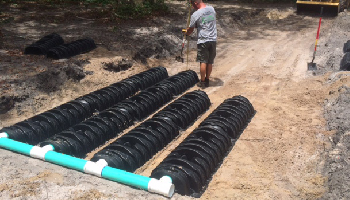 As the population increases in Deltona, Florida and throughout the state, there is even more need to preserve the quality of the groundwater. This precious resource is not just important for our community and its people, but also for the plethora of wildlife, plants, and trees that make this such a great place to live. If your home is on a septic system, it is important that you do your part to avoid contaminating the water. Here at Clark Septic, we offer drain field inspection services that are a vital part of maintaining your septic system and keeping it in top condition.
Not only is a drain field inspection necessary to be sure your system isn't contaminating the groundwater, but it is also an important part of avoiding costly repairs or even premature replacement of your drain field. If a problem is caught early, it can often be repaired more cost-efficiently than if the situation is left to degrade further.
Another reason to call us for a drain field inspection on a regular basis is to add this information to your detailed record of septic system maintenance, so future homeowners will be well informed about the care that has been taken throughout the years. This can even be a selling point that can help you get top dollar for your home when it comes time to relocate.
If you have questions about what is involved with a drain field inspection or need more information about how to keep your septic system healthy, don't hesitate to contact us.
---
At Clark Septic, we offer high-quality drain field inspection services in Orlando, Altamonte Springs, Kissimmee, Deltona, Ocoee, Pine Hills, Oviedo, Winter Park, and Winter Springs, Florida.