We offer drain field inspections in Winter Park, FL to make sure this component of your septic system is working properly.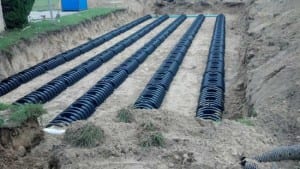 Drain Field Inspection in Winter Park – Even if you have a septic system on your property, you may not be aware of what role each component plays in moving and processing waste and water from the home or business. The septic tank is a large concrete box buried beneath the ground, typically away from driveways or areas of the property where heavy equipment is parked or driven. The tank has pipes coming out of each side. One side connects to the drains in the building, while the other side connects to the drain field. When waste enters the tank, it separates based on weight. Solids stay behind, while water receives treatment and moves out to the drain field.
At Clark Septic, we offer drain field inspections to make sure this component of your septic system is working properly. It contains perforated pipes surrounded by gravel that allow the water to drain out and filter through before going back into the ground. If your drain field has a crack, this could result in contaminated water going back into the soil. Not only is this damaging to the environment, but it is also a concern for you and your neighbors who use this water for drinking and food preparation. A drain field inspection is an important part of septic system maintenance that shouldn't be skipped or postponed.
Our experienced technicians are skilled in the drain field inspection process, so they can determine if there is a problem with your drain field right away. Call us today to schedule your drain field inspection in Winter Park, FL.
---
At Clark Septic, we offer high-quality drain field inspection services in Winter Park, Orlando, Altamonte Springs, Kissimmee, Deltona, Ocoee, Oviedo, Pine Hills, and Winter Springs, Florida.