Turning to us for septic tank pumping in Ocoee, FL regularly can preserve the functionality and efficiency of your septic system.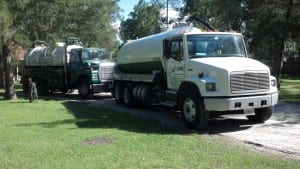 Septic Tank Pumping in Ocoee – Although septic tanks require hardly any maintenance, having the tank on your property pumped out on a regular basis can make a big difference in its overall functionality and efficiency. If you're looking for someone in the Ocoee, Florida area who can provide you with reliable, affordable septic tank pumping services, turn to us at Clark Septic.
While septic tank pumping is a relatively standard process, we do several things to ensure that you are 100% satisfied with this service. For example, when we pump out your tank, we will make sure that all of the solid waste that has accumulated at the bottom is removed. This way, there is plenty of room for wastewater to move through your septic system.
Additionally, during the septic tank pumping process, we will inspect your tank to determine if any repairs need to be done. If we find something wrong with your tank, we will then let you know how we can take care of the problem for you.
Typically, we recommend having us come and pump out your septic tank every few years. However, how often you need to have this service performed depends on the size of your septic tank, the number of people living in your home, and how much water you use every day.
Remember, it's always better to have us come and pump out your septic tank before you run into a problem. To find out more about this service and why you should let us at Clark Septic take care of the job, give us a call today.
---
At Clark Septic, we offer high-quality septic tank pumping services in Ocoee, Orlando, Altamonte Springs, Kissimmee, Deltona, Pine Hills, Oviedo, Winter Park, and Winter Springs, Florida.