Our septic technicians offer drain field services and maintenance in Winter Park, Florida.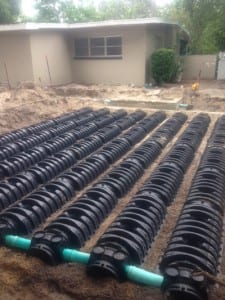 Drain Field Services in Winter Park – One of the most important components of the septic system is the drain field. When someone in the home rinses water down the drain or flushes a toilet, the water and waste goes through pipes and into a septic tank that is buried beneath the ground on your property. A septic tank contains bacteria that help to treat the waste, while allowing the clear water to rise to the top. After the waste is treated, it moves through the next set of pipes into the drain field. Through the drain field, which contains perforated pipes, water seeps through gravel and re-enters the soil below. The main concern with a drain field is a crack or hole, since this could cause untreated water to go back into the groundwater.
At Clark Septic, our septic technicians offer drain field services and maintenance in Winter Park, Florida and surrounding areas. During a routine maintenance visit, we will pump out your septic tank and inspect the system for any concerning problems. If drain field services are necessary at this time, we can perform any repairs to make sure the system can properly treat water and protect the environment.
There are also signs that may indicate a problem with some part of the septic system, such as wet spots near the drain field, plumbing clogs or backups, or foul odors. If you see any of these problems on your property, call us today. and we can come right out to inspect. In addition to drain field services, our team has experience with a wide variety of other septic services, so we can diagnose and repair problems quickly.
---
At Clark Septic, we offer high-quality drain field services in Winter Park, Orlando, Altamonte Springs, Kissimmee, Ocoee, Pine Hills, Oviedo, Deltona, and Winter Springs, Florida.
Similar Services We Offer: