If you suspect that there may be a problem with your Winter Park, FL drain field, call us right away for drain field repair.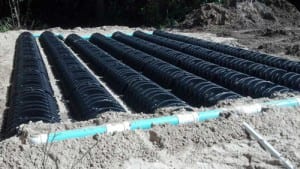 Drain Field Repair in Winter Park – A septic system is a great option if your property is far away from a sewage processing facility. These self-contained systems move waste and water through the plumbing and into the septic tank, then through other components for processing and drainage back into the ground. Since a septic system is so frequently in use, whether you are doing laundry, running the dishwasher, or taking a shower, it requires regular maintenance to work properly. The drain field is a part of the system that requires frequent inspection, since its role in filtering and treating water is important for environmental safety.
At Clark Septic, we offer drain field repair to those in and around Winter Park, Florida. If you suspect that there may be a problem with your drain field, call us right away to schedule a service call. We are available 24 hours a day, Monday through Friday and we can also come to your property on Saturdays by appointment. Since we are family-owned, customer service is our main priority, and we will treat every client with respect. Our technicians will also keep you informed about any need for septic tank or drain field repair.
We recommend scheduling routine maintenance on your septic system at least once every 2-5 years. Those with higher usage should do it more frequently– especially those who have septic systems in their commercial buildings. Regular maintenance and inspection can lessen the risk of system backup and other issues, as well as the need for costly drain field repair in the future.
---
At Clark Septic, we offer high-quality drain field repair services in Winter Park, Orlando, Altamonte Springs, Kissimmee, Deltona, Ocoee, Oviedo, Pine Hills, and Winter Springs, Florida.