Our drain field services can help you with repairs, inspections and installations.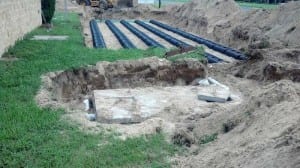 When you have a septic system, you know that each part is essential to proper water treatment. Here at Clark Septic, we want to make sure each and every part of your septic system is well-cared for. As a full-service septic company in the Altamonte Springs, Florida area, we have been helping customers like yourself since 2002 with septic and drain field services. We offer a variety of services for each component of the system, including drain field services, which encompass:
Drain Field Repairs– Even if you are careful with your septic system, there are times when you might need to make repairs. Drain field repairs are an essential part of drain field services, and we are happy to help with even the most extensive of repairs. Whether the issue is due to tree roots or pressure from above ground damaging your drain field, we have the ability and equipment to find and repair the issue.
Drain Field Inspections– Worried that something is wrong with your drain field? Like an annual physical at the doctor, a drain field inspection is something we are able to take on to ensure that everything is running and functioning as it should. If there is an issue that comes up, we are able to advise you on how to proceed. 
Drain Field Installations– If you have a septic system replacement that you need to get done, need to move the drain field, or are struggling with more problems than repairs can fix, we are happy to take over your drain field installation with the experienced hands of our professionals.
For proper drain field services, be sure to contact us here at Clark Septic today!
---
At Clark Septic, we offer high-quality drain field services in Altamonte Springs, Orlando, Kissimmee, Ocoee, Pine Hills, Winter Park, Oviedo, Deltona, and Winter Springs, Florida.
Similar Services We Offer: