We offer a wide variety of drain field services that will benefit your household and the environment.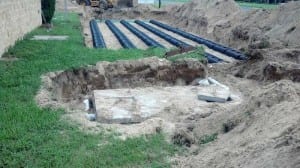 At Clark Septic, we have served the Winter Springs, Florida area since 2002 with exceptional drain field services. We understand that quality products and workmanship are necessary whether you need installation, maintenance, repairs, inspection services, or replacement services, so we go above and beyond to be the best provider in our industry. We are familiar with all types of septic systems, including those that require drain field services, so you can be confident that whatever situation you are facing will be resolved in a professional and timely manner.
We highly recommend having your drain field inspected regularly rather than waiting until you notice a problem. Even having it done when your tank is pumped is not frequent enough to catch a small problem before it becomes a big one. We also perform drain field inspections for real estate transactions, so if you are under contract and want to be sure the property's waste treatment system is functioning properly, don't hesitate to contact us about our drain field services.
The purpose of the drain field is to properly filter effluent that has flowed from the septic tank so that when it reaches the soils and groundwater, it is free from contaminants. If you do not have regular drain field services performed, you run the risk of a contamination issue that can be very costly to resolve. Our team has a lot of experience with drain field services, so you can be confident that we will keep your septic system in top working order for the benefit of your household and the environment.
---
At Clark Septic, we offer high-quality drain field services in Winter Springs, Orlando, Altamonte Springs, Kissimmee, Ocoee, Pine Hills, Oviedo, Deltona, and Winter Park, Florida.
Similar Services We Offer: