Our complete inspection of your drain field will ensure it remains intact and is functioning properly.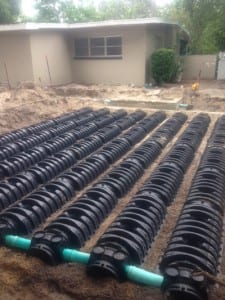 When our septic professionals come to your home or business to complete routine maintenance, our services don't stop with the cleaning of your septic tank. As a matter of fact, our drain field services are also an important part of this maintenance appointment.
Your drain field serves a critical function for your entire septic system because it is the last stop for gray water as it is safely filtered back into the ground. A compromised septic drain field can lead to a lot of problems, like hazardous waste contamination and a smelly yard. With our drain field services on septic tank cleaning day, we'll do a complete inspection of your drain field to ensure that it remains intact and is functioning properly for your home or business.
In the event that your drain field is damaged or aged out, there is no need to worry. At Clark Septic, our drain field services extend to include repairs and replacement, so you can achieve your best septic system year after year.
We offer complete septic solutions for home and business owners in Pine Hills, Florida, and we have experience working with all types of septic systems, from gravity fed to fully automated. We'll work with you to achieve the best from your septic system around the clock, year after year. Our drain field services are an important part of what we do for our customers.
If you have questions about septic maintenance or our drain field services, contact us at Clark Septic today to schedule an estimate. We look forward to hearing from you.
---
At Clark Septic, we offer high-quality drain field services in Pine Hills, Orlando, Altamonte Springs, Kissimmee, Ocoee, Winter Park, Oviedo, Deltona, and Winter Springs, Florida.
Similar Services We Offer: