The best thing you can do for your Deltona home's septic system is call us for a septic inspection every 1 to 2 years.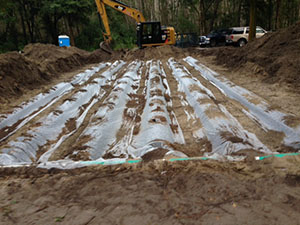 Some people never think to have a septic inspection done, but there are a few times when it is a good idea. Here at Clark Septic, we see quite a few costly repair situations that could have been avoided if only a septic inspection would have caught a small problem before it became a big one. Because of this, we recommend you have a septic inspection done at least every time you have the tank pumped, but preferably every 1 to 2 years, even if the tank doesn't need pumped yet.
Another important time for a septic inspection is if you are looking to buy a property in Deltona, Florida that has a septic system. The regular property inspection that is done does not involve the full inspection on the septic system that you need to assure it is in top condition. A whole-house inspection generally only checks to be sure drains are flowing freely and the toilets all flush properly. That doesn't mean the septic system isn't headed for trouble– only that symptoms haven't shown themselves just yet.
If you are selling a home, having us perform a septic inspection can help you avoid a surprise if your potential buyer has one done and then turns to you to make repairs. You can also market your property with confidence that it is great condition. We can also perform a pump-out which will please your buyer, too.
Of course, if you are experiencing any problems, it is definitely time for a septic inspection to find out what is going on. We check for cracks, holes or water running back in from the drain field. We also inspect the inlet and outlet baffles and the filter. We test the pump and the alarm if it has one. We check the effectiveness of the drain field by performing a water load test. We provide you with a full report and additional information about maintaining your septic system and keeping it in top condition. If you have any questions or are ready to schedule a septic inspection, don't hesitate to give us a call.
---
At Clark Septic, we offer high-quality septic inspection services in Orlando, Altamonte Springs, Kissimmee, Deltona, Ocoee, Pine Hills, Oviedo, Winter Park, and Winter Springs, Florida.